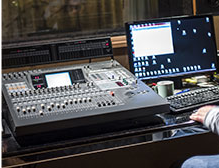 E-VOICE OVER SERVICES
We make commercials stand out and media spots sound distinct with our professional voice over services. Script writing also avail.
MOBILE RECORDING SERVICES
Capturing the essence of a live show or doing field recordings is easy with our mobile recording services. You will be amazed at the sound's clarity. Ask about available locations.
E-STUDIO SERVICES
Poe Radio and WPOE affiliates offer multi-media services from concept to completion via the worldwide web.